Manual Station Monitors & Accessories

Please Click the link under the picture to open the full product data sheets.
MANUAL STATION MONITORS:

National Fire/ Fire Pro® station monitors were specifically designed to
meet all requirements of municipal and petrochemical applications. The
balanced flow single waterway design and precision machining on
swivel joints reduces friction loss while improving stream and distance.
Please choose from the following models.
Model FP1-125 1.5 Monitor
Model FP-750 2.5 Monitor
Model FP-1200 3 Monitor
Model FP3529 Hydrant Mount Kit


MASTER STREAM NOZZLES:

National Fire/ Fire Pro® Master Stream fog/straight stream nozzles are
forged from heavy aluminum or brass casting that withstands caustic
or salt water environments using deck pipes and station monitors.
Precision machining ensures ease of operation when changing patterns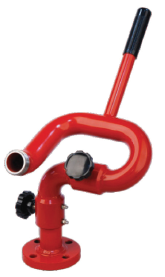 ×