Figure 778 - Bar Joist & Beam Attachment

Service: Used to rigidly brace piping systems subjected to sway and seismic disturbances. Structural attachment component of Anvil's 700 series sway brace assembly. Recommended for use under roof installations with bar joist construction or for attachment to the top or bottom flange of structural steel beams. Can be utilized as a structural connection for either a lateral brace or a longitudinal brace.
Approvals: UL and ULC Listed (UL 203A:2009), and FM Approved (FM 1950:2010). Complies with seismic bracing requirements of NFPA-13.
Features:
• Permits secure quick connection to structural members where drilling and/or welding of brace connection is not allowed or is not easily accomplished
• Shear head bolt design ensures that the proper installation torque is accomplished for a tight non-slip fit to the structural member.
• Bar joist beam attachment is designed for concentric loadings of seismic connections and fasteners.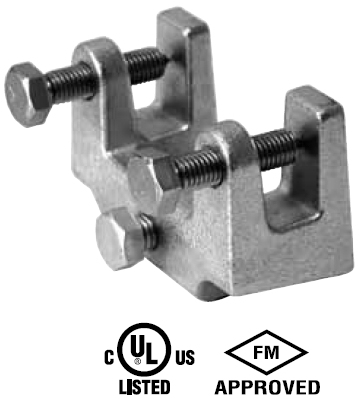 ×