Omega Air Compressors

Fire Sprinkler Air Compressors - Base and Tank Mounted
• Quiet operation.
• Heavy duty single stage high efficient air compressors.
• Durable cast iron pumps for performance and durability.
• All pumps supplied with oil sight gauge.
• Splash type lubrication.
• All cast iron pumps have stainless steel valves for longer life.
• Flywheels designed for excellent pump cooling.
• All units may be ordered with magnetic starter (Starter supplied loose).
• All units supplied with necessary compressor oil for start up.
• All units supplied with extended drain valve for air receiver for ease of draining condensation.
• Factory tested prior to shipment.
• 2 year limited manufacturer's warranty.
• Specialty units and voltages available upon request.
Click on the file below the image for specification data
on both base and tank mounted units.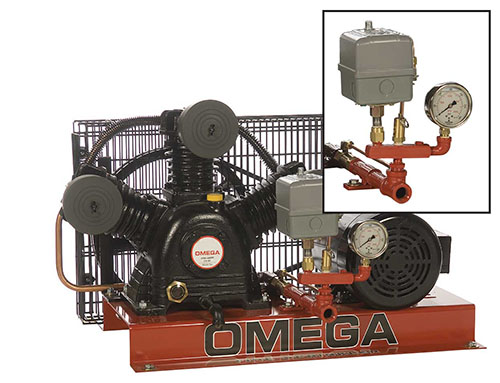 ×